MOHAMMAD SAMMY-radiology specialist doctor-uhs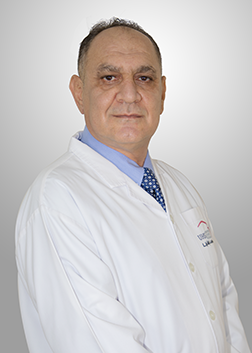 Request Appointment
Dr Mohammad Sammy Weis
Specialist Radiologist
QUALIFICATION:
Master's Degree in Radiology, Syria.
PROFESSIONAL EXPERIENCE:
He is a Sr. Specialist Radiologist, Dr. Sammy has 18 years of experience.
Prior to joining University Hospital Sharjah (UHS) he held the position of Sr. Specialist Radiologist, at a private hospital in Sharjah. He moved to UAE from Syria where he was Consultant Radiology at Shifa Hospital and also Head of Department, Medical Imaging Department at Aommaya Hospital.
He has also worked in the hospital of Ministry of Health and Ministry of Higher Education, Damascus, Syria.
Dr. Sammy has experience in a broad range of general radiology modalities including, ultrasound, CT and MRI body imaging.
He has considerable experience in Cardio-vascular, Cardiac CT including angiograms.
He is able to perform all kinds of biopsies and aspirations under U/S and CT guided percutaneous operations.
INTERESTS:
Interventional Radiology
Cardiac Vascular Radiology
Diagnostic Neuro-Radiology and Musculoskeletal Imaging
Cross-Sectional Body Imaging
Vascular Interventional Radiology
Non-Vascular Interventional Radiology
Gastrointestinal and Uroradiology Cancer Services
Emergency Radiology