Doctor Photo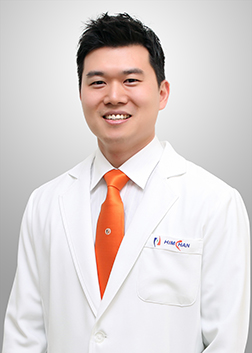 Qualification
MD, Korea University College of Medicine, Korea
Internship, Korea University Medical Center, Korea
Residency in Orthopedic Surgery, Korea University Guro Hospital, Korea
Clinical Instructor, MADI International Shoulder Arthroplasty Center, Seoul, Korea
Orthopedic Consultant & Surgeon, Gangbuk Himchan Hospital, Seoul, Korea
Associate Professor, Korea University College of Medicine, Seoul, Korea
Member of Korean Arthroscopy Society, Korean Shoulder and Elbow Society, Korean Knee Society, AO Trauma Asia Pacific
Dr. Chay is Korean educated and trained consultant with extensive experience of over 10 years in the field of orthopedic surgery, successfully completing over 2,000 surgeries and procedures. 
He highly specializes in arthroscopic surgery and has completed over 500 cases including arthritis management, rotator cuff repair, meniscectomy and meniscus repair, anterior and posterior cruciate ligament reconstruction.
Dr. Chay is excellent and skillful in manual and computer navigated arthroplasty for which he has successfully completed over 300 cases.
He will also provide you with non-surgical treatments and solutions such as injections, physiotherapy and medications if surgeries are not necessary. 
Special Interest
Total Knee Replacement Arthroplasty (Manual or Computer Assisted Robotic)
Knee Arthroscopic Surgery (Meniscus Repair, Cartilage Regeneration)
Corrective Osteotomy Surgery 
Reverse Total Shoulder Replacement Arthroplasty 
Shoulder Arthroscopic Surgery (Rotator Cuff, Labrum)
Upper Extremity (Elbow, Wrist, Hand) Tendon & Ligament Surgery
Fracture Surgery and Management of Upper & Lower limb
Sports Injury
Intra-Articular Injections