title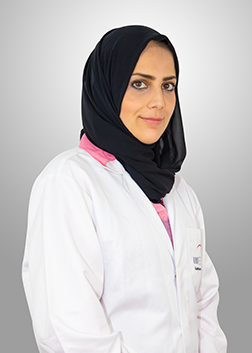 Dr. Feda Al Ali
Consultant Internal Medicine
QUALIFICATION:
American Board of Wound Healing
American Board of Internal Medicine (ABIM)
American Board of Obesity Medicine (ABOM) Fellowship
Internal Medicine Point-of-Care Ultrasound Fellowship
Associate Faculty at University of South Carolina - School of Medicine - Clinical Learning Department.
Michigan State Board of Medicine license.
Florida State Board of Medicine License.
South Carolina State Board of Medicine License.
MOH License-Internal Medicine Consultant
American College of Physicians Member
American Institute Ultrasound Medicine
Member Bachelor of Medicine and Bachelor of Surgery
PROFESSIONAL EXPERIENCE:
More than 10 years of experience in Internal Medicine.
Associate Faculty for Clinical Learning at University of South Carolina (USC), School of Medicine.
Worked at privileged hospitals in the United States such as Palmetto (Prisma) Health USC Medical Group, Prisma Health Richland Hospital, Prisma Health Baptist Hospital, Orlando Health Inpatient Medicine Group, Orlando Regional Medical Center Hospital, UF Health Cancer Center -Lewis Pavillion Hospital, South Seminole Hospital, Winnie Palmer Hospital, Doctor P. Phillip's Hospital and SouthLake Hospital.
Chief Resident and Internal Medicine Resident at Beaumont Health-Oakwood Campus-Wayne State University Affiliated
Worked as an Internal Medicine Resident Mid-West (Outpatient) Medical Center-Oakwood Campus
Worked as a Pediatrics Resident at Shaikh Khalifa Medical City-Cleveland Clinic Affiliated
Worked as a Nenonatal ICU Resident at Corniche Hospital
Completed an Internship at Dubai Health Authority.
INTERESTS:
Arthritis
Asthma
Chronic bronchitis
Emphysema
Skin disorders
Common sprains: ankle, wrist, finger
Common strains: back, groin
Diabetes
Headaches
High blood pressure
High cholesterol
Heart disease
Mood disorders
Skin conditions
Thyroid disease
Obesity
Urinary tract infections
Adult incontinance
Adult well-care checkups
Health-risk assessments
Vaccinations - like flu shots, pneumonia