title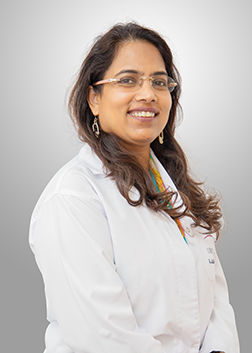 Request Appointment
Dr. Ritu Khare
Specialist General Surgeon
LANGUAGES:
EnglishHindiUrdu
QUALIFICATION:
Master Degree in General Surgery from King Edward Memorial Hospital, Mumbai, India
Fellowship of the American College of Surgeons, MRCS,2017
Fellowship in Gastrointestinal Surgery
Bachelor of Medicine and Surgery
Member of the Royal College of Surgeons of Edinburgh
Member of Society of American Breast Surgeons
Specialized in Hepatobiliary and Digestive Surgery from Sanjay Gandhi Institute of Postgraduate Medical Studies in Lucknow, India
Trained at the Institute for Laparoscopic Surgery in Bordeaux, France
PROFESSIONAL EXPERIENCE:
More than 17 years of surgical experience and is practicing in UAE since 2003.
Specializes in advanced laparoscopic gastrointestinal surgery wherein she performs the most complex surgeries using minimally invasive techniques thus reducing hospital stay and enhancing patient comfort
An expert in laparoscopic abdominal surgery, bariatric surgery, colorectal surgery, hernia surgery and all forms of breast and thyroid surgeries.
Specializes in the in advanced laparoscopic surgical management of hepatobiliary and pancreatic disorders, gastrointestinal cancers, inflammatory bowel disease (Crohn's disease and Ulcerative colitis
Academically, presents her surgical work regularly at national and international medical conferences.
Former general secretary of the Emirates Society of Laparoendoscopic Surgeons and has been very active in organizing academic medical meetings, facilitating the sharing of experience amongst surgeons of the middle-east region
INTERESTS:
Breast Cancer surgery
Laparoscopic Hernia
Gall bladder surgery
Colorectal Surgery
Gastro-oesophagal reflux disease
Pancreas surgery
Cancer surgery of gastrointestinal tract
Advanced laparoscopic surgery
Thyroid surgery
Varicose veins surgery
Gastrointestinal surgery
bariatric surgical procedures for management of obesity