title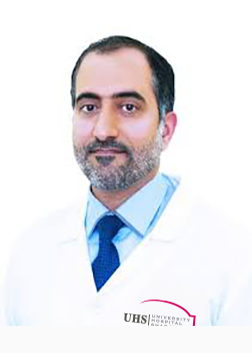 Request Appointment
Dr.Mohmmad Al Olama
Consultant Neurosurgeon
LANGUAGES:
ArabicEnglishSwedish
QUALIFICATION:
Swedish Board in Neurosurgery
Swedish Medical Degree
PROFESSIONAL EXPERIENCE:
Subspecialty in pediatric Neurosurgery and neuropathic pain
President of Emirates society of Neurological surgeons
Vice President of Emirates Medical Association
President of Gulf neurosurgical society
General Secretary of Arab pediatric neurosurgical society
X-member of Emirates Scientist cabinet
Member of International Advisory Board of Neurosurgery and Operative Neurosurgery magazine.
Member of the Editorial Board for the New Emirates Medical Journal .
Awards:
-UAE pioneer 2015
-Emirates newspaper award: Person of November 2015
-MOH award for special employee 2013
-DHA awards for special employee 2016 and 2017
INTERESTS:
Brain and spine tumors in Adults and pediatrics
Pediatrics and adults hydrocephalus
Myelomeningocele and Encephalocele repair
Brain and spine Vascular malformation surgery (aneurysm and AVM)
Implantation of spinal cord stimulator for pain
Implantation of Baklofen pump for spasticity
Implantation of VNS (vagus nerve stimulator for epilepsy)
Disc prolapse surgeries
Vass experience in treatment of head injury
All kind of brain tumor surgery in pediatrics and adults
Disc surgery in neck and back.
Trigeminal neuralgia surgery
Aneurysm clipping in case of subarachnoidal bleeding
Arteriovenous malformation surgery in brain and spine
Decompression craniectomy in case of MCA infarction
Hydrocephalus surgeries with implantation of shunts
Myelomeningocele and encephalocele repair
Endoscopy treatment of hydrocephalus
Treatment of stenosis in neck and back (decompression laminectomy in cervical and lumbar spine)
All kind of head bleedings (Epidural/extradural, subdural, intraparenchymal bleeding)
Treatment of post traumatic deformity
Staged treatment of vertebral fractures
Muscle injections for pain (muscle spasm)
Epidural injection for pain management
Implantation of spinal cord stimulator for pain
Implantation of Baklofen pump for spasticity
Implantation of VNS (vagus nerve stimulator for epilepsy)