title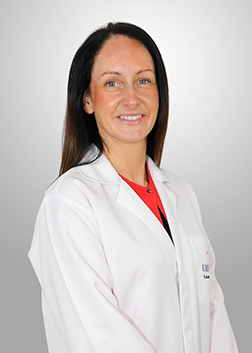 Request Appointment
Ms. Jennifer Clark
Podiatrist
QUALIFICATION:
Qualification in the administration of local anesthetic
Bachelor's degree with First Class Honors from Glasgow Caledonian University, UK
PROFESSIONAL EXPERIENCE:
Extensive experience in working with high risk diabetic patients, with particular skills in the management of lower limb complications.
Highly skilled in the assessment and management of complicated diabetic ulcerations. Carrying out debridement, appropriate wound care and offloading techniques.
Experience in working and liaising with many other disciplines from orthotists, nurses and vascular or diabetic consultants providing patient-centered care.
Vast experience in the assessment of the lower limb in relation to foot protection and preventative measures to help maintain foot health.
Extensive experience to assess and treat from all areas of skin and nail pathologies.
Widely practiced and experienced in partial and total nail avulsions and the conservative management of ingrown toenails.
INTERESTS:
High risk diabetic limb care and foot protection
Assessing vascular and neurological status of the lower limb
Ankle Brachial Index Calculations
Doppler assessment
Managing surgical or auto-amputation sites and the associated debridement and wound care
All skin and nail pathologies of the lower limb
Charcot Arthropathy
Callus Debridement
Corn enucleation
Biomechanical Assessments
Foot protection and patient health care promotion and education