Blogs Inner page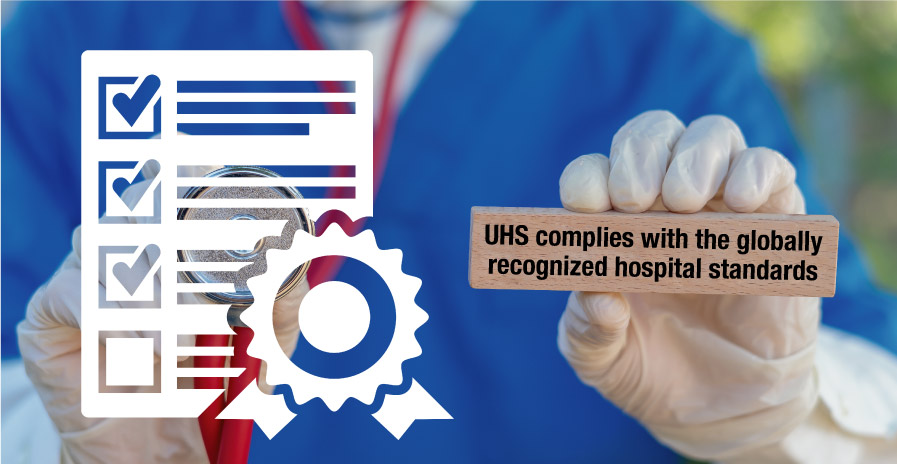 What does accreditation entail in the medical industry?
It is the process through which an unbiased body reviews the operations and facilities of a medical facility to make sure the entity is executing its functions streamlined with the national/ global standards. Accreditation by a globally renowned body manifests quality, one of the primary determining factors for the affiliating body.
What is the significance of JCI accreditation?
The Joint Commission International (JCI) is a globally renowned non-profit private body affiliated with The Joint Commission Resources Inc. (JCR). It is a US-based organisation that grants accreditation to diverse aspects of the healthcare industry. The JCI identifies, evaluates and propagates best practices related to quality and patient safety with the world. IT offers guidance and sophisticated solutions to assist healthcare entities across diverse settings in improving operations and performance. JCI started in 1998 for taking forward the global mission of JCR to enhance patient care quality and safety standards by assisting health care organisations, ministries, public health agencies and more in over 60 countries. A JCI accreditation is a testimony of quality and safety of par excellent standards. The global health care community views it as a parameter of superiority in health care services.
JCI awards its accreditation after conducting a complete on-site inspection. The inspection comprises an on-site survey carried out by an authorised and trained surveyor/ team on behalf of the JCI. They closely examine whether the respective entity is compliant with JCI standards. Once certified, the JCI accreditation is valid for three years, except for clinical laboratories, as they require renewal every two years.
Why is JCI accreditation important for the healthcare industry?
Qualifying the JCI accreditations equips healthcare entities with knowledge and operations that consistently help in upping the quality of patient care and medical services. JCI has well-established criteria to evaluate the medical organisations on the critical areas that entitles them as world-class. JCI grants the illustrious Gold Seal of Approval which is an embodiment of grandeur in the industry.
A JCI accreditation ensures the patients that the healthcare organisation they are selecting for treatment has undergone a stringent assessment and met a gamut of demanding qualifications in patient safety and care provisions. It minimises discrepancies and reduces safety-related risks for patients. As a globally recognised health care leader, JCI holds the record of having one of the largest pool of organisations certified under its name- +20,000.
What are the benefits of getting JCI accreditation for healthcare organisations?
JCI certifies eight different healthcare programs around the world-Hospitals, Academic Medical Centres, Ambulatory Care Facilities, Clinical Labs, Home-care Services, Long Term Services, Medical Transport Services and Primary Care Facilities.
It raises the bar of operational and clinical processes and polishes staff competency by developing their know-how related to leading practices.
It helps the medical entities to synergise and collaborate with experienced JCI surveyors who are experts hailing from diverse settings of the health care industry.
It helps the JCI certified organisations to associate and exchange knowledge and best practices with medical entities worldwide.
It provides medical organisations with a core competency to differentiate based on paramount patient care and excellence of services.
It enhances the goodwill of a healthcare facility.
It helps in attracting, hiring and retaining the best industry talent.
UHS receives the JCI accreditation criteria with flying colours yet again
UHS is an avant-garde medical care facility vested with cutting edge medical science technologies and an arsenal of immensely erudite and experienced medical professionals from all parts of the world. Being a top state-of-art hospital in the UAE, the service standard of UHS is at parity with any world-class health care facility. Along with being a comprehensive full-facility hospital, UHS is also the official medical campus for the University of Sharjah.
Since 2015, UHS has consecutively attained JCI accreditations three times in a row by fulfilling a plethora of robust stipulations of JCI in the very first attempt. The first renewal of the affiliation took place in 2018 and the second in 2021. Qualifying for the prestigious JCI accreditation for the third time in a row is a testament to its excellence. The latest renewal is a milestone for UHS because of the extraordinary performance in the assessment. Out of 1124 scoring parameters, UHS superfluously met with 1111 along with a partial fulfilment of the remaining 13.
The performance of UHS in critical areas is nothing short of exemplary as it accomplished a 100% compliance rate for medical standards across Anaesthesia & Surgical Care, Patient Care, Prevention & Control of Infection and Management of Information.
Other globally renowned laurels of UHS
Apart from the eminent JCI accreditation, owing to its distinguished services, UHS has several august accomplishments-
ISO 10002: 2014
UHS is among the few best hospitals that have been consistently rewarded the ISO 10002:2014 certification over the years for complying with the global standards of handling complaints and customer satisfaction for aviation clinical services.
General Civil Aviation Authority
UHS is an officially certified medical facility; it performs GCAA medical for the aviation industry. UHS is authorised to execute flight physical examinations and issue certificates.
Baby-Friendly Hospital awarded by UNICEF
UHS is a certified Baby-Friendly Hospital (BFHI) under UNICEF'S Baby Friendly Initiative. The efforts of UHS to promote and support breastfeeding by underlining the ten steps to breastfeed with ease along with complying with the international code of prescribing and marketing the substitute of breast milk has helped UHS bag this award.
Super Brand
UHS is a Super Brand! The Super Brand council has placed UHS on the list of the strongest brands in the UAE.
All the distinguished awards and affiliations of UHS stem from the vision & mission of UHS to continually evolve as an innovative, patient-centric entity through compassion and superior service standards.