Doctor Photo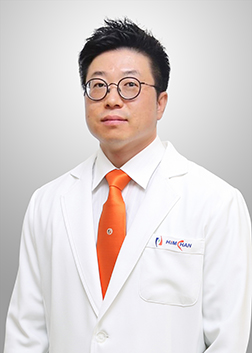 Qualification
MD, Gyeongsang National University Medical College, Korea
Internship and Residency in Orthopedic Surgery, Samsung Changwon Hospital, Korea
Fellowship in Spine Surgery, Samsung Medical Center, Korea
Former Head of Spine Center, Cheil Orthopedic Hospital, Korea
Member of Korean Orthopedic Association, Korean Society of Spine Surgery, Korean Society for the Advancement of Spine Surgery, AO Spine
Dr. Kang is a Korean-educated and trained consultant surgeon who served Cheil Orthopedic Hospital in Korea as the Head Director of Spine Center prior to joining UHS. 
He is specialized in Minimally Invasive Spine Surgeries (MISS) which leaves less than 1cm of the surgical wound, minimizing the post-surgical recovery time. 
Dr. Kang is excellent and skillful and skilled in Biportal Endoscopic Spine which is applicable to the most spine diseases such as Herniated Nucleus Pulposus (HNP) or Spinal Stenosis caused by degeneration of the spine. 
He is also highly experienced in microscopic fusion surgeries and various types of the latest MISS such as Oblique Lateral Interbody Fusion (OLIF), Direct Lateral Interbody Fusion (DLIF), Anterior Lumbar Interbody Fusion (ALIF). 
Dr. Kang will offer non-surgical treatments such as injections and Percutaneous Epidural Neuroplasty (PEN) if surgeries are not necessary. 
Special Interest
Biportal endoscopic spine surgery: Cervical, thoracic, lumbar discectomy & decompression surgery, lumbar fusion
Microscopic spine surgery: Fusion surgery, Anterior Cervical Discectomy and Fusion (ACDF), Cervical Artificial Disc Replacement (ADR), C-spine laminoplasty
Minimally invasive surgery: Oblique Lateral Interbody Fusion (OLIF), Direct Lateral Interbody Fusion (DLIF), Anterior Lumbar Interbody Fusion (ALIF)
Non-operative spine procedure: Percutaneous Epidurographic Neuroplasty (PEN), Cervical PEN, Balloon assisted PEN